September 11 - October 10, 2021
Virtual Only
It's Time to Stampede for VIPS!
Our Lynn Family 5k for VIPS is now VIRTUAL only! This new format allows us to ensure that the vulnerable population of infants, toddlers and preschoolers that we serve stay safe and healthy during a time of rising Covid cases in young children. A virtual race means that supporters can participate from anywhere! This event raises funds for Visually Impaired Preschool Services (VIPS) and features a category of race winners specifically celebrating runners who are blind or visually impaired!
Choose to walk or run the 1- or 3-mile lengths anywhere and anytime from 9/11/21 through 10/11/21. Set up a fundraiser and create a team or invite friends and family to donate. Teams or individuals can even complete the race at one go or over the course of several days. Participants can also submit their running times, in order to be included in the competition for prizes. Each participant in the race will receive a t-shirt and a medal.
Taking pictures and videos are encouraged! VIPS wants to see how you enjoyed the virtual race, whether alone or with a team of family and friends!
RUNNER/WALKER PACKET PICKUP: TBD
Sign up today for this virtual race!
RACE FEATURES:
Commemorative Race T-Shirts
B/VI, Overall and Age Group Awards (5 Year Age Divisions, Top 3 M/F)
Social Teams to enhance your race experience. Largest Team and team that fundraises the most wins a prize!
5k Virtual Run/Walk, 1-mile Virtual Run/Walk
PACKET PICKUP: Date TBD
Service dogs are the only animals allowed at Bowman Field.
ASSEMBLE THE MINIONS
Create a fundraiser for VIPS when you register and invite friends and family to help raise money!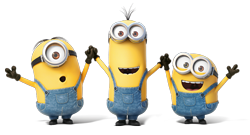 Special thanks to our 2021 sponsors!