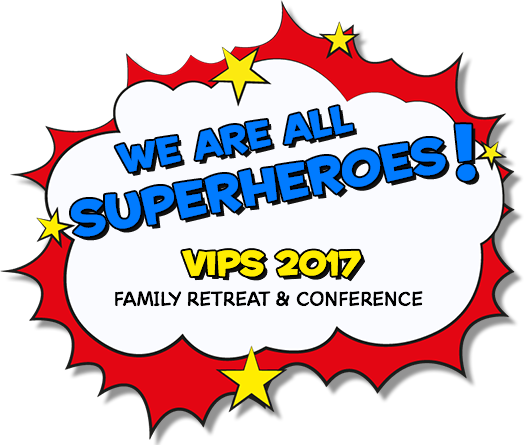 2017 VIPS Family Retreat & Conference
November 3-4
VIPS Louisville
1906 Goldsmith Lane
Louisville, KY 40218
Friday Night | November 3rd
Family registration and meet and greet with Kids Camp and Respite!  Meet all the Superheroes at VIPS and our volunteers for the weekend while your family enjoys games and super Sundaes in Kids Town Preschool.
Saturday | November 4th
Let the learning begin for the parents and the fun begins for your kiddos!  The Family Conference with super speakers for the parents will be held at Holiday Inn Express on Bishop Lane, across the street from VIPS.  The camp will be for children ages 3-15 and respite for children ages 3 and under. Remember the motto for the weekend, "No news is good news!"  This is your time to sit back and relax while we care for your children.  We hope you'll join us for this special event that was created specifically for you and your family!
Room at Holiday Inn Express (choose Friday or Saturday)
If you live 50+ miles away, your family will be able to stay at the Holiday Inn Express for one night courtesy of VIPS. You will be allowed one room per family. You can choose Friday night or Saturday night.  Please note that you are welcome to stay two nights, but VIPS will only pay for one night.
If you have any questions, please contact Kathy Mullen at (502) 498-2927 or kmullen@vips.org.