About VIPS Lexington
The VIPS Lexington office opened in October 1990 thanks to a grant from the KY Cabinet for Human Resources and the generous support of the University of Kentucky Department of Ophthalmology.  Serving 67 counties, the Lexington office operated out of several locations before establishing our current home in a shared building with Lexington Hearing and Speech Center (LHSC).  In addition to providing early intervention services and family programming, we offer an onsite enrichment program for 2-3-year-olds twice a week.  We are so happy that our partnership with LHSC offers multiple opportunities for our children to receive high-quality early preschool and preschool programming, allowing VIPS teachers to provide services in the classroom to the child as well as professional development for the teachers.  We are excited to see our office grow in serving all of the children in Central and Eastern Kentucky who need our services!
Have a Question?
Contact the VIPS Lexington office for more information!
Featured Grantor for VIPS Lexington
Children's Charity
VIPS Lexington is honored to once again receive a grant from the Children's Charity Fund of the Bluegrass, Inc.  Since 1999, VIPS has been fortunate to be blessed with funds from this generous organization, allowing us to provide critical early intervention services to children in Central and Eastern Kentucky.  The Mission of the Children's Charity Fund of the Bluegrass, Inc. is to establish and maintain an ongoing concerted fund-raising effort to benefit local charitable organizations which have as their primary goal the betterment of children of the Commonwealth. The Children's Charity Fund of the Bluegrass was founded in 1981 to help provide needed funds for the Child Development Center of the Bluegrass, an agency that provides a full range of services for children from birth to five years of age who have disabilities. The charity celebrated its 35th anniversary this year. For more information visit the Children's Charity website.
Child size table
Two chairs
Powdered tempera paint
Disinfectant wipes
Baby wipes
Black and white card stock
Slinky toys (preferably red, yellow or metallic)
Sturdy metal open shelving units
Glue sticks
3oz paper cups
Paper towel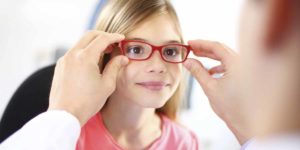 When a child is blind or has very low vision, sometimes the first thing a parent or a friend or relative says is; "He needs glasses." But whether or not glasses will improve a child's ability to see is dependent upon the reason for the child's low vision or blindness. For some eye conditions/diagnoses, there IS something that will help improve vision; a surgery, a medication, a visual intervention, or prescription eye glasses. But, for many serious eye conditions, there is NOT an intervention that will improve visual acuity. And in these cases, putting glasses on a child simply will not help.
Read More
Why is early intervention so critically important?
DID YOU KNOW?
90% of what a child learns
is through their vision.
85% of the foundation of learning happens the first 5 years of their life.
Your donation directly impacts the life of children who are blind or visually impaired in Kentucky and Indiana.