About VIPS Lexington
The VIPS Lexington office opened in October 1990 thanks to a grant from the KY Cabinet for Human Resources and the generous support of the University of Kentucky Department of Ophthalmology.  Serving 67 counties, the Lexington office operated out of several locations before establishing our current home in a shared building with Lexington Hearing and Speech Center (LHSC).  In addition to providing early intervention services and family programming, we offer an onsite enrichment program for 2-3-year-olds twice a week.  We are so happy that our partnership with LHSC offers multiple opportunities for our children to receive high-quality early preschool and preschool programming, allowing VIPS teachers to provide services in the classroom to the child as well as professional development for the teachers.  We are excited to see our office grow in serving all of the children in Central and Eastern Kentucky who need our services!
Have a Question?
Contact the VIPS Lexington office for more information!
Featured Grantor for VIPS Lexington
Lexington-Fayette Urban County Government
"Each fiscal year, the Mayor (of Lexington) and Urban County Council allocate funds for use by selected 501(c)(3) non-profit partner agencies for the Department of Social Services' Extended Social Resource (ESR) Grant Program. The Lexington-Fayette Urban County Government has historically partnered with non-profit agencies for the purpose of providing priority social services to supplement and support the work of the Urban County Government. These agencies are diverse in their missions and work plans, and provide services to the most vulnerable populations in our community... ESR encompasses four Priority Areas: Community Wellness & Safety; Childhood & Youth Development; Food Insecurity & Nutritional Access; and Emergency Shelter." VIPS Lexington is honored to be one of the eleven (11) agencies to receive funding in the area of Childhood & Youth Development.
Child size table
Two chairs
Powdered tempera paint
Disinfectant wipes
Baby wipes
Black and white card stock
Slinky toys (preferably red, yellow or metallic)
Sturdy metal open shelving units
Glue sticks
3oz paper cups
Paper towel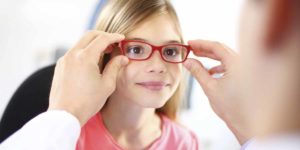 When a child is blind or has very low vision, sometimes the first thing a parent or a friend or relative says is; "He needs glasses." But whether or not glasses will improve a child's ability to see is dependent upon the reason for the child's low vision or blindness. For some eye conditions/diagnoses, there IS something that will help improve vision; a surgery, a medication, a visual intervention, or prescription eye glasses. But, for many serious eye conditions, there is NOT an intervention that will improve visual acuity. And in these cases, putting glasses on a child simply will not help.
Read More
Why is early intervention so critically important?
DID YOU KNOW?
90% of what a child learns
is through their vision.
85% of the foundation of learning happens the first 5 years of their life.
Your donation directly impacts the life of children who are blind or visually impaired in Kentucky and Indiana.