About the Scholarship Fund
The Bret Dahmke Scholarship Fund was started in March 2015 when the family of Bret Dahmke, who was visually impaired himself, wanted to turn the tragic situation of Bret's death at a young age into a beacon of hope for the future by supporting other families who have a child with blindness/low vision.  This $500 scholarship will assist a Kentucky family of a child with a visual impairment to attend a local or national conference that is related to blindness/low vision.  The goal is to better equip the family with resources, insight, and tools needed to support their child. The scholarship funds may be used for transportation, lodging, or conference fees. This scholarship is offered every other year. Please check back in 2024 for the next application cycle.
Bret Dahmke Scholarship Applications
Applicants must meet the following criteria:
Have a child with a visual impairment within the age range of birth to high school.
Be a resident of Kentucky.
Previous Winner
Karin Geraci (2019 Recipient)
I feel very blessed to have been given the opportunity to attend the conference and gain so much knowledge.
My name is Karin Geraci and I am the mother of Josie Geraci. She is 4 ½ years old and attends our local Catholic school with her brother. I am a certified teacher and currently, I am enrolled in the University of Kentucky's TVI program. With the completion of my masters I hope to aid Josie's teachers in adapting materials for her visual impairment and teach her braille. I also hope to work with other visually impaired students in Northern Kentucky once I graduate.
With the scholarship from the Bret Dahmke Scholarship Fund and his family, I was able to attend the 2019 KAER Conference. The scholarship covered my housing, food and transportation costs. Through attending the KAER conference I obtained a wealth of information not only for me as a TVI, but also as a mother of a visually impaired child. I loved learning about the latest technology for the visually impaired, how to create a safe environment for visually impaired students and the necessary life skills that are all very important for a visually impaired child. I feel very blessed to have been given the opportunity to attend the conference and gain so much knowledge. Thank you for the scholarship and the opportunity to serve visually impaired children locally with my newly learned skills.
Previous Winners
Ashley May (2017 Recipient)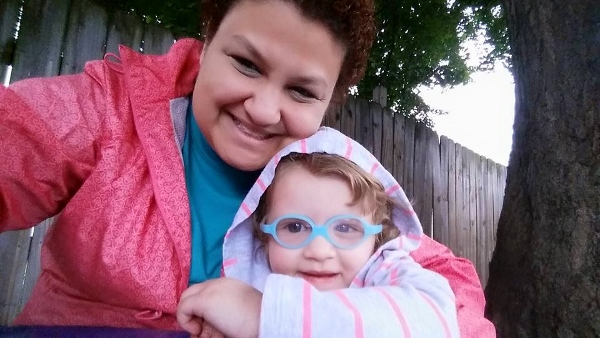 Thank you to the Dahmke Family for awarding me the Bret Dahmke scholarship to help make this trip possible.
Ashley May is the mother of Pyper, a little girl who is visually impaired. Ashley attended the AER (Association for Education and Rehabilitation of the Blind and Visually Impaired) Conference in Jacksonville, Florida as a result of the scholarship.