We provide early intervention services for all of Kentucky and Indiana!
VIPS provides early intervention services to Kentucky and Indiana's youngest children with blindness and low vision. Services include evaluations, in-home visits, and access to resources that help parents and caregivers better understand and support their child with visual impairment. Contact us to learn more about how you can take advantage of the many programs and services that are offered throughout the year.
Give us a call to discuss how we can help!
Call (888) 636-8477 so we can discuss how we can help your child.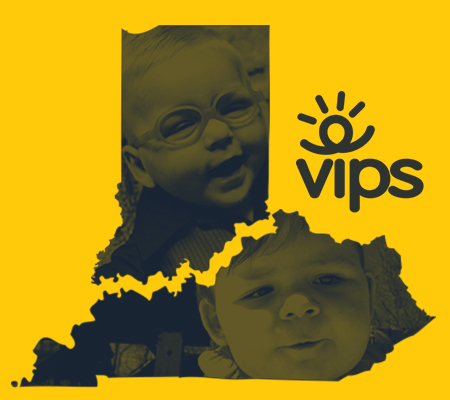 Early intervention is critical to success!
VIPS provides numerous services and programs to help children who are blind or visually impaired learn and successfully navigate their world. Whether you take advantage of our agency services like in-home visits or any of our programs offered through our regional office locations, we want to help your child unlock their potential. To learn more see our complete list of programs and services below for more information!
VIPS Programs and Services
Some programs are only available at select VIPS offices. To learn more regarding availability and locations click on the program links.
Parent Empowerment Program
Preschool Transition
& Advocacy
Little Learners
Enrichment Program