A Different Way of Learning
VIPS believes that children with visual impairments are children first and need the same types of experiences as their sighted peers. However, these children have to gather information about the world in different ways. Certified teachers from VIPS who specialize in early childhood education can show these children how to use their remaining vision and other senses to learn about their world. Parents and caregivers also learn about their child's diagnosis, are provided with tools for teaching at home, and gain a better understanding on how to advocate for their child.
VIPS is a nonprofit agency in Kentucky and Indiana that is dedicated to meeting the specialized educational needs of visually impaired babies, toddlers, preschoolers, and their families. There are still many unmet needs, especially in rural areas where families frequently lack the resources for obtaining information and services to help their children. VIPS is committed to securing the resources to sustain our current programming as well as meet these unmet needs. A donation to VIPS is an investment in the futures of these children with very specialized needs. We can't do what we do without individuals like you.
How do we use your donation?
Grants, fundraising, and private donors allow us to provide specialized services to the children we serve as well as our operating expenses, so you can give knowing your donation will directly impact the life of a child with visual impairment.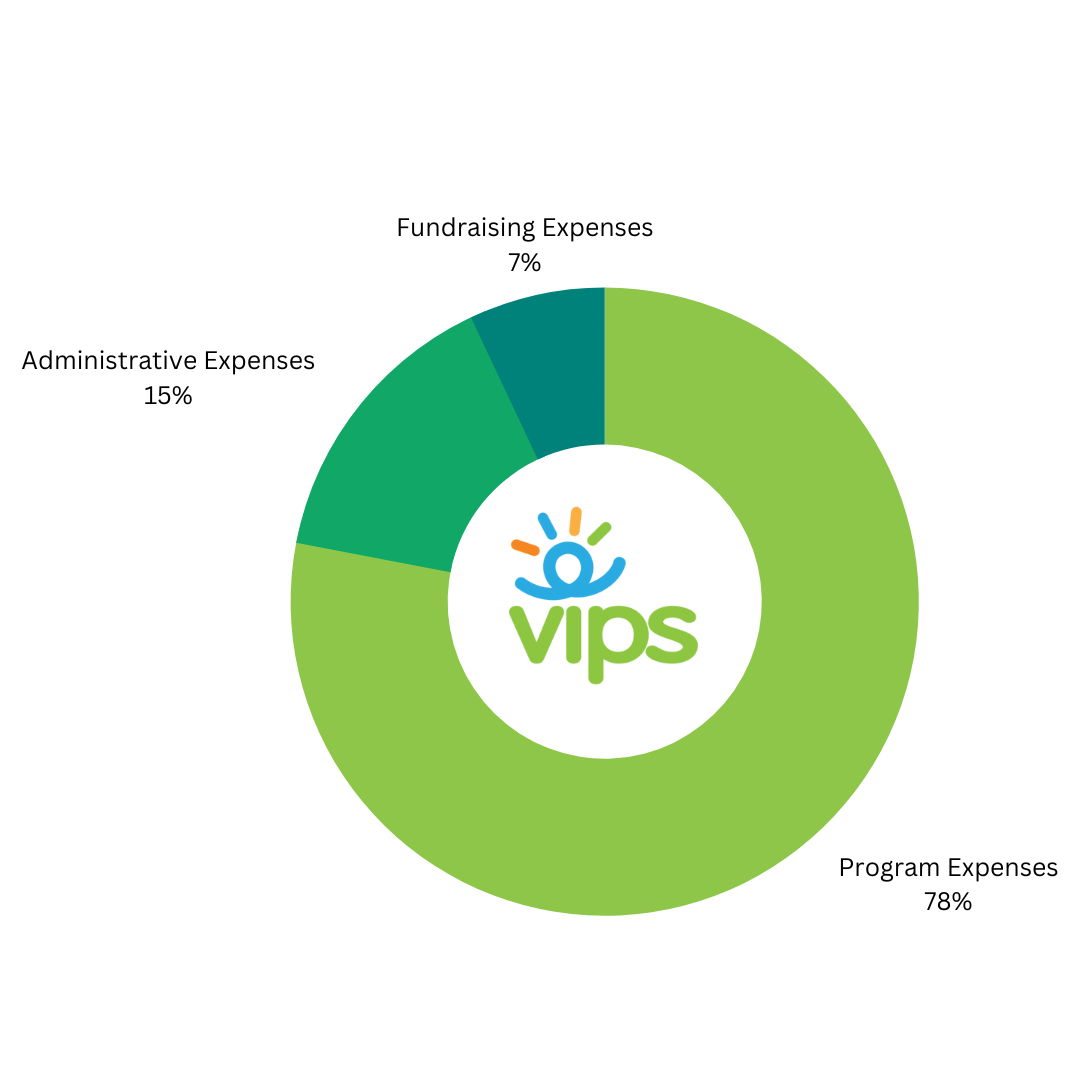 Leave a Lasting Legacy
Donors may become a VIPS legacy member by providing a gift through, but not limited to the following:
Endowment Gift
Bequest
Charitable Annuity
Trust
Life Estate Gift
Insurance
Buy a Sensory Garden Brick
These bricks will be laid in our Sensory Garden. They can be inscribed with up to four lines of commemoration for that special loved one.
Help VIPS Grow Our Endowment!
VIPS has been blessed to grow The Lion Ralph Stengel Endowment Fund at VIPS because of a generous matching grant from the Louisville Downton Lions Club (LDLC). LDLC is matching dollar for dollar all endowment gifts up to a total of $250,000. Currently, we have had $116,200 in donations and $116,200 in matching funds for a total raised of $232,400. We would like to raise another $133,800 so that we can exhaust our match and reach our $500,000 endowment goal for this fund. If you would like to make an endowment gift to the Lion Ralph Stengel Endowment Fund please contact Diane Nelson at dnelson@vips.org or at 502-636-3207.
Register. Shop. Swipe.
Donate to VIPS.
Kroger is committed to helping our communities grow and prosper. Year after year, local schools, churches and other nonprofit organizations will earn millions of dollars through Kroger Community Rewards.
Kroger Community Rewards makes fund-raising easy..all you have to do is shop at Kroger and swipe your Plus Card!
Supporting VIPS has never been easier–just shop at Kroger and scan your Plus Card! Here's how to enroll:
Sign in to your online account or create one if you do not already have an online account.
After you login or create an account, find and select our organization and click "Save".
You'll start earning rewards for our organization right away on qualifying purchases made using your Kroger Plus Card!  Learn more at https://www.kroger.com/account/enrollCommunityRewardsNow and thank you for your support.
* Remember, you will need to re-enroll August of every year.
VIPS is hiring!
We are looking for teachers to join us as new team members (employees) for full and part-time positions or as contractors.  Contractors can choose the number of children they serve as well as their service area.  It's a great job for after school and evenings!
If you know anyone who is interested, please have them contact me:  
kmullen@vips.org
 or (502) 498-2927.