About VIPS Indiana
VIPS Indiana was a grassroots effort led by a mother of a child who was legally blind and a Teacher of Blind/Low Vision.  These two knew the landscape for Indiana's youngest children with blindness/low vision needed to change and their drive to help these children and their families motivated them to try to bring the VIPS mission to Indiana.  With the backing of the VIPS Board of Directors and the VIPS Executive Director, this mother and teacher began providing services on August 1, 2011.  VIPS Indiana started with 8 children and the agency has grown exponentially over the past six years.  We now have a network of teachers, interventionists and Orientation and Mobility Specialists throughout the state that provides vision-specific early intervention services to children birth to 3.  We are proud of all that we've accomplished, but we have more work to do as there are more children who need the specialized services we can offer.
Have a Question?
Contact the VIPS Indiana office for more information!
Featured Grantor for VIPS Indiana
AWS Foundation
We are excited to be one of the recipients of the generosity of AWS Foundation as we were awarded $17,000 for vision-specific early intervention services for babies and toddlers with blindness/low vision in Northeast Indiana. AWS Foundation's mission is to help children and adults with enduring intellectual, developmental and physical disabilities live as independently as possible, be included in the community and function at their highest potential.
Manila folders
White computer paper
Disinfectant wipes
Jingle bells
Mylar material
Baby wipes
Skinny toothbrush holders
Red or yellow slinkies
Paper plates and napkins
Snacks for events
Grocery store gift cards for family events Why is early intervention so critically important?
DID YOU KNOW?
90% of what a child learns
is through their vision.
85% of the foundation of learning happens the first 5 years of their life.
Your donation directly impacts the life of children who are blind or visually impaired in Kentucky and Indiana.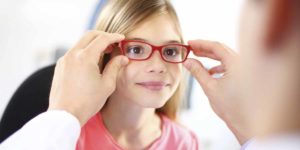 When a child is blind or has very low vision, sometimes the first thing a parent or a friend or relative says is; "He needs glasses." But whether or not glasses will improve a child's ability to see is dependent upon the reason for the child's low vision or blindness. For some eye conditions/diagnoses, there IS something that will help improve vision; a surgery, a medication, a visual intervention, or prescription eye glasses. But, for many serious eye conditions, there is NOT an intervention that will improve visual acuity. And in these cases, putting glasses on a child simply will not help.
Read More