Have you worried about how your young child or student who is visually impaired is going to learn all he or she needs in order to achieve success?
This video offers a preschool-level perspective on the Expanded Core Curriculum for Students Who Are Blind or Visually Impaired (ECC).  The ECC addresses nine critical skill areas these students must learn in order to find success in school and in life. However, they can be difficult to learn with limited or no vision.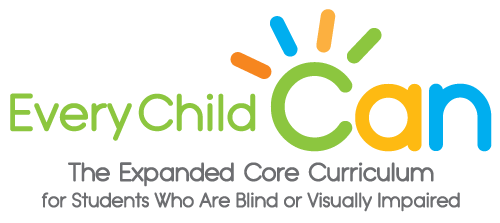 The objective of the video is to demystify the ECC for parents of young children who are visually impaired and for their general education teachers who may have limited expertise and experience teaching children with vision loss.  The video also encourages parents and professionals to advocate for use of the ECC and to implement it at home, in the classroom, and in the community.
Join us for a joyful journey through the ECC in a preschool for the visually impaired that also enrolls sighted peers, and share in the inspirational perspectives of adults who are visually impaired as they talk about how learning ECC skills have enhanced their lives and careers.
Skills Covered in the Expanded Core Curriculum
The goal of education is to prepare the learner for life, with all of its challenges and opportunities.  The standard core curriculum taught in public schools is insufficient to meet the many and varied special needs of students who have visual impairments.  That is why the Expanded Core Curriculum (ECC) was developed.  It is never too early to start teaching your child the skills covered by the ECC.  With limited or no vision, your child will experience difficulty in learning many of these skills, so the sooner you start teaching them, the better prepared your child will be to live fully and productively in the sighted world.
The Expanded Core Curriculum for students who are blind or visually impaired covers the following:
Compensatory Skills
Concept development
Reading skills in the appropriate medium
Written and oral communication skills
Listening skills
Organizational skills
Sensory Efficiency Skills
Using all senses to gather information, including sight, hearing, touch, and smell
Using optical devices, such as magnifiers
Using communication devices
Orientation & Mobility
Body awareness
Spatial awareness
Positional/directional concepts
Human guide technique
Trailing
Protective techniques
Use of cane or pre-cane device
Use of environmental/structural cues and landmarks
Independent Living Skills
Independent feeding
Personal hygiene
Dressing independently
Cleaning and cooking
Organization and management of time and belongings
Assistive Technology Skills
Computer and keyboard
CCTV
Braille writer
iPads/tablets
Listening center
Communication devices
Adapting devices with texture coded keys
Social Interaction Skills
Initiating contact
Facing the person to whom you are speaking
Engaging in reciprocal conversation
Expressing wants and needs
Respecting personal space
Being aware of the needs of others
Self-Determination Skills
Making good decisions
Solving problems
Self-advocacy
Assertiveness
Setting appropriate goals
Recreation & Leisure Skills
Playing games
Sports (participatory and spectator)
Exercise and dance
Hobbies and crafts
Career Education
Ability to take responsibility
Punctuality
Organizational skills
Ability to stay on task
Purchase Every Child Can Today!
This video is made with audio description for the visually impaired and closed captioning.  It is also available in Spanish, with audio description and closed captioning in Spanish.  A transcript is available by request for an additional fee.
Professional Recommendations
★★★★★
"I love it! You've given meaning to the ECC at its most basic level, and most importantly shown parents how they can translate this educational jargon into their family life at home."
– Kay Alicyn Ferrell, PhD
Professor Emerita, Special Education
A.M. & Jo Winchester Distinguished Professor
UNC | University of Northern Colorado
★★★★★
"I truly enjoyed watching this video and found it engaging. The tone was educational, realistic, and inspirational. It is of high quality and will be a benefit to the field for many years to come. I look forward to the use of this video in our work training scholars and our work with families."
– Mindy Ely, Ph.D. Assistant Professor | Blindness/Low Vision Programs
Illinois State University, Champaign-Urbana
★★★★★
"This video kept me smiling from beginning to end! It is very interesting to see how children who are visually impaired confidently interact in their environment because of the skills they learn through the Expanded Core Curriculum. The video helped me to understand how I could easily adapt these skills into my classroom and even use them with sighted kids as well!"
– Joyce Wall, MS, MSD/Moderate Severe Disabilities
Jefferson County Public Schools, Louisville KY
Have a Question?
Contact our office for more information about Every Child Can!