Gheens Foundation Awards VIPS with a $50,000 Gift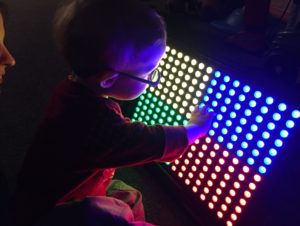 Visually Impaired Preschool Services was recently awarded a $50,000 gift from the Gheens Foundation to be used for in-home early intervention visits by VIPS teachers as well as for two- to five-year-olds who attend Kids Town Preschool at VIPS.
"We were completely overwhelmed at the generosity of the Gheens Foundation," said Diane Nelson, VIPS Executive Director. "We've enjoyed a long-time relationship with Gheens—our library is named after them—and this gift means so much for a strong start for our kids with blindness or low vision."
Demand for VIPS services increased so much that VIPS built a fifth classroom so that more students needing specialized preschool have access to the foundation VIPS lays. Last year, VIPS served over 600 children and anticipate that number only growing.
"I am confident our founders, Edwin and Mary Jo Gheens, who had no children, would be most pleased to know their legacy of love and generosity is being perpetuated through the all-important mission of VIPS," said Gheens President, Barry Allen.
VIPS, founded in 1985, is a unique charitable organization dedicated to meeting the critical early intervention needs of infants, toddlers, and preschoolers birth to 5 years old with low or no vision in Kentucky and Indiana. VIPS served over 600 children this past year across Kentucky and Indiana and is nationally recognized as a leader in the field of visual impairment.
Our Kids Town Preschool at VIPS' campus hosts visitors from around the world wanting to learn more about our Expanded Core Curriculum and best practices. Kids Town Preschool, a Kentucky 5-Star Center, is a test site for American Printing House for Blind's new research and materials and is accredited nationally by AdvancED. VIPS was also recently awarded a 4-Star rating by Charity Navigator for demonstrating strong financial health and commitment to accountability and transparency.