Help for Santa's Helpers: The Gift of Christmas Routines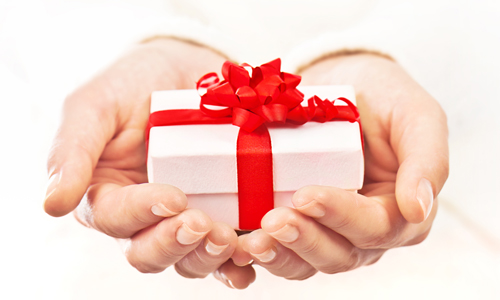 by Paige Maynard
Teacher of the Visually Impaired and Developmental Interventionist | VIPS Louisville
All young children thrive in the context of routines. Routines are essential for enabling the child to fully participate in activities. However, during the holiday season, the craziness of celebrations can really disrupt those essential routines that help your child to function at her best. Consider giving her the gift of establishing Christmas routines and traditions this year. Not only will your child be able to successfully take part in celebrations, your stress level can go down as you feel confident about her joining in.
First, I encourage each VIPS family to start the tradition of doing what is best for your household each winter. December is a busy month for everyone, and sometimes the pace of life is a little too swift to allow you to feel that the most wonderful time of the year is indeed wonderful. Sometimes it's better to have a few simple routines and traditions that are meaningful than it is to try to take part in every celebration you are invited to.
So what's in a routine? Why is a routine important? A good routine for your child has predictability – your child should know what is going to happen from start to finish and that steps occur in the same order each time. If your holiday routine is to send out one card together to one family member each day of the month, your child might learn to know that first, she sits in the high chair, then hears you get out the box of cards, then it is her turn to grasp an inked stamp or another tool to help sign the card. Finally, the card is placed in the envelope, and your child joins you in taking it to the mailbox.
Consistency is also important – your child should know what is expected of her during the routine. Is it her job to pull the tissue paper out of the gift bag? Or maybe to be the designated holder of the songbook during the religious service? Good routines also engage your child in anticipation – when your child observes your cues, she knows how to prepare herself for what comes next. For example, your child can learn to get ready to help join in on part of a familiar carol you sing each evening when she hears you begin the tune. Finally, a good routine allows for practice –the opportunity to complete activities again and again over a period of time so that your child can recall what happened the last time and try to do more of them this time. For instance, multiple attempts at rereading "The Night Before Christmas" can help a child who uses a switch to know when to press it to take part.
Specific traditions and routines that you can start with your child this year include:
• Instead of opening all gifts on one day, let your child participate in opening one gift each day of the month. Not only will opening one gift for a succession of days enable your child to learn this "skill," it can also help minimize the sensory overload that can come with wrapping paper and toys strewn throughout the living room.
• Create a story about what happens in your home on Christmas day. Then review it each day. This can be as simple as telling your child what happens on Christmas morning. Or, it could be as complex as creating a book or story box that describes what to expect at each part of your celebration. I recommend consulting with your child's VIPS teacher to help make the most of your holiday story.
• Celebrate the season by reading the same favorite holiday story each day. Allow your child to help turn pages in the book, join in on reading, or pat the pages of the book.
Resources:
Smith, Millie. (n.d.) Routines. Retrieved from http://www.tsbvi.edu/component/content/article/1733-routines.
Smith, Millie. (n.d.) Why are Routines Worth the Trouble?. Retrieved from http://www.tsbvi.edu/component/content/article/1723-why-are-routinesworth-the-trouble.