Jacob's Journey— growing and thriving with each day!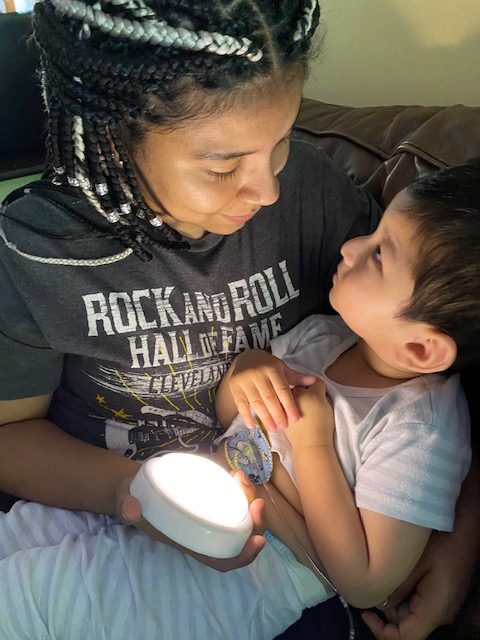 From Melisa, mother to Jacob:
"Jacob joined our family via domestic adoption in September 2020, at 10 months of age.  At the height of the global pandemic, we had the delight and honor of welcoming our son, Jacob, home forever!  What a joy! 
Before Jacob's adoption, we were aware that he had experienced global developmental delays and had been diagnosed with cerebral palsy and failure to thrive.  However, after transferring all of his medical care to our closest children's hospital following his adoption, Jacob was comprehensively assessed and received a diagnosis of Spinocerebellar Ataxia, Type 4, as well as other accompanying medical diagnoses, of which one was CVI and several brain anomalies, including a retinocerebellar cyst, white matter volume loss, and thinning of his corpus callosum.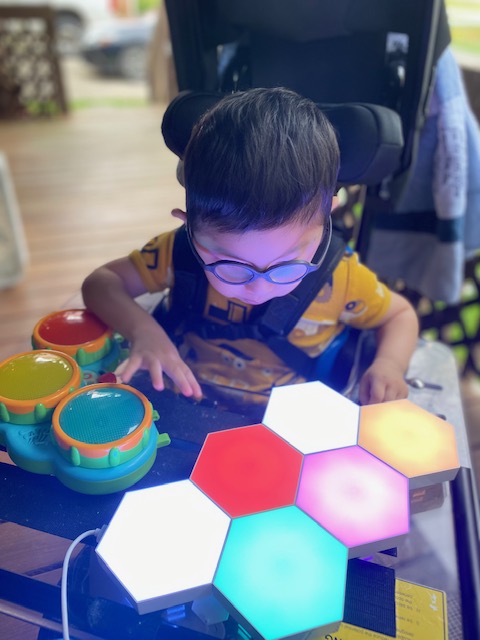 After several hospitalizations, team assessments, and medical appointments, Jacob now is medically stable, thriving, and developing.  He is dependent on a G-tube for all feedings, meds, and hydration, has severe epilepsy and is dependent for all mobility and activities of daily living.  Jacob, now almost three years old, resides in eastern Kentucky with his family, which includes his parents and three older siblings, Isaac, age 21, Jonah, age 21, and Abby, age 16.  He is the joy of our lives and spending our days with him is the highlight of this season of family life.  
Jacob loves his daily routines, which include morning playtime, therapy sessions at home, traveling in the car and out in our community, and spending time with family and friends.  He is funny, mischievous, and playful.  He smiles and laughs hysterically, and loves going for long walks with his family in his wheelchair near our home.  His dog, Pippen, brings him lots of joy and fun.
After Jacob came home, I (Melisa) left the full-time workforce as an occupational therapist to become Jacob's full-time caregiver, playmate, and mama.  Although I had primarily worked with the elderly population throughout the last 24 years of my career, I did have just enough experience in pediatric therapy services to know the value of early intervention and know the right questions to ask to initiate services for Jacob.  I began aggressively researching options for assessment and treatment for him, knowing that traveling the four hours each way to our local children's hospital was not feasible or reasonable for long-term services.  After initiating First Steps Early Intervention Services, I reached out to VIPS in Louisville via email to determine if there were any options for virtual services, and to my surprise, they indicated that they had a service provider that lived in my county!  Who knew?  
We worked with VIPS and First Steps to coordinate services with Ms. Bekah Allen, who became our Developmental Interventionist and VIPS service provider.  Ms. Bekah has blessed our family tremendously.  She has provided innovative services, did research to assist us in locating equipment and services that would benefit us, as well as accompanying us virtually to Jacob's CVI Team Assessment at our children's hospital all while contributing and assisting in implementing strategies at home.  She worked to acquire Jacob a lightbox, which has been invaluable for his development and learning.  Ms. Bekah has been so playful and interactive with Jacob…he doesn't AT ALL realize he is working on skills!  She has assisted with suggestions about home modifications to assist with his vision as well as identifying toys that would allow him to be successful with play and development.  Once she taught me, I ran with it and we established a great repertoire of stimulatory toys and an environment that has helped him thrive visually and developmentally.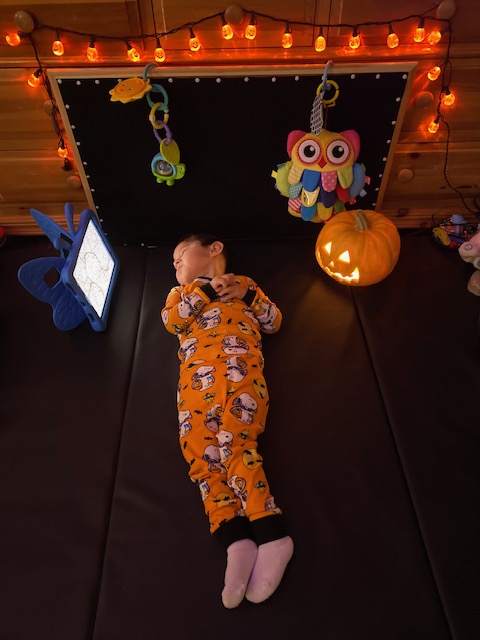 One particular emphasis that Ms. Bekah had was ensuring that we understood about simplifying Jacob's visual background and environment to allow him to thrive visually.  We made a backdrop and changed his play floor mat to more simplistic, dark colors to allow the colors of his toys to pop!  He loves it and has come alive with his independent play skills since we made the change.
I strongly advise other parents, physicians, and therapy services providers in the eastern Kentucky area to make referrals to the VIPS program.  This service, in my estimation, is grossly underutilized in the eastern Kentucky region.  In an area where services can be much more difficult to navigate, identify, and utilize, this service is accessible and so helpful!  We are so thankful that we have been connected with VIPS and will always be grateful for the services of our provider, Ms. Bekah Allen. "